A Colorado Ranch
RUMBLE RIDGE is a small, private ranch specializing in equine rehabilitation, health and wellness. We offer equine reproduction services through Goldyn Equine LLC, for artificial insemination and embryo transfers, with amenities for your breeding needs. We also offer continuing education clinics by visiting professionals for horsemanship, bio mechanics, and equine wellness. We believe in a holistic approach for happy, healthy horses and their owners.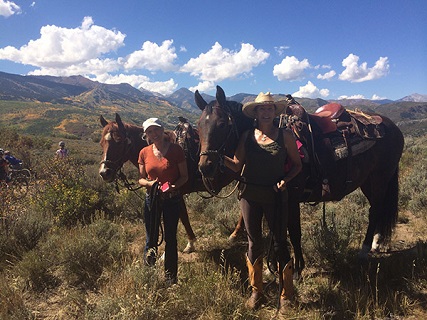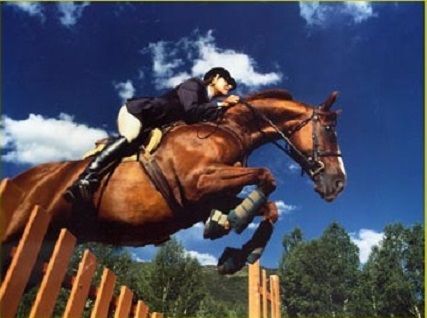 Owner/Manager – Holly McLain
WESTERN
Owner and operator, Holly McLain grew up riding quarter horses on the iconic "Willow Brook Farms" in Catasauqua, PA. Her father C T Fuller, and his famous sire "Joe Cody" are both in the AQHA & NRHA Halls of Fame.
Holly showed reining and cutting horses, and qualified for the Stock Seat Medal Finals in Santa Barbara, California. She was featured in the AHSA (now USEF) stock seat equitation film showing the split rein style of riding. She trained and showed Tisa Baby to the third top reining horse in the nation as a junior rider.
ENGLISH
In college, she switched to English –Hunter & Jumpers. She competed at the highest level, was champion at Devon, Madison Square Garden, Washington International, and garnered the "1st Year Green Working Hunter Horse of the Year award with her famous hunter, "Castle Walk". Holly also showed jumpers, competing her last year in Grand Prix events, placing 3rd in the Chagrin Speed Class, against international Competitors. After moving to Colorado, she competed in local three day events, and has always used classical dressage principles as the foundation for all disciplines.
BLENDING ENGLISH AND WESTERN DISCIPLINES
Throughout the years has brought a balanced, successful understanding of the big picture of horsemanship. Natural Horsemanship is infused with the classical, well established English approach to training for the horse and rider's welfare.