FOR SALE – RAPTOR – 4 yr.old, 14.1 hand, gelding
Sale Price $6,500 SOLD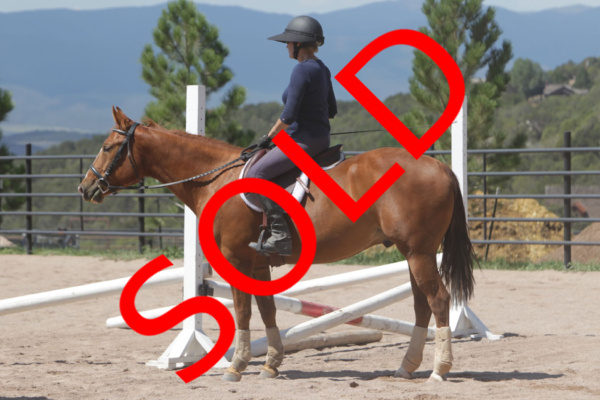 Raptor is a large pony prospect, coming 5 yrs. old in 2018. He is a Swedish Warmblood/Quarter Horse cross.
Temperament:
Raptor is very kind, quiet, and loves people. However, he is only 5 years old and can behave like any youngster. He stands in cross ties quietly, is easy to shoe, loads well in trailers, and stands quietly to mount, only moving off when asked. Raptor is still working on learning self-carriage, and maintaining a balanced canter. He has been started over cavalettis and low cross rails. We have taken him on trail rides, and he does well in company.
Raptor would make a good project for any solid rider. Raptor wears a cribbing collar, and does not crib as long as he wears it. We put the collar on him to prevent him actually learning how to crib. I caught him one day as a two-year-old, and nipped it in the bud. I have never seen him crib since.
I bred and raised this little guy and a good loving home is my highest priority.