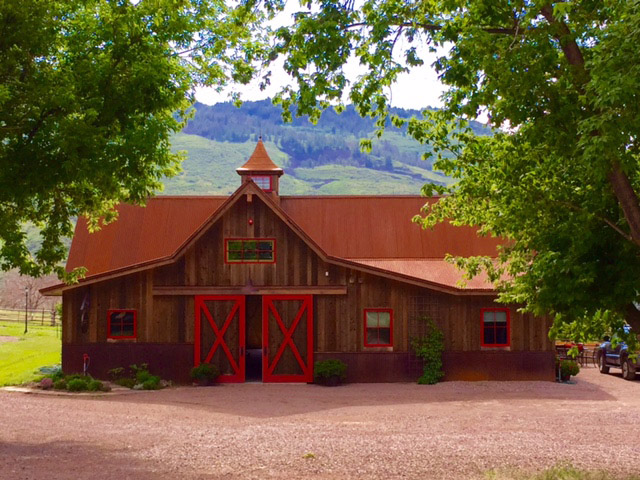 Inside stalls and outside dry lot paddocks with shelters and water are available. Full service horse care, farrier, veterinarian, training and exercise.
All horses get at least 1 hour of turnout on the large grass pastures every day. Your horse is our priority. Every animal gets personal attention and the human touch every day. We believe in a balanced approach for the physical, mental, and emotional well-being of every horse.
Clients and their horses have full use of the outdoor arena, round pen, saddling area, wash stall, high line, and riding track around the pasture areas. We arrange clinics and trail rides for our boarder's wishes.
There is limited space for boarding accommodations. Reservations and deposits are required.
Stall Board – Full service: Includes hay 2/x day, muching, turn out, feeding owner supplied grain and supplements AM & PM, blanketing AM & PM. Includes use of outdoor arena, round pen, high line, jumps, track trail around pasture, tack room, wash stall w/hot & cold water, & trailer parking.
Monthy: $1,000.00
Daily Rate: $40.00
Dry lot – which includes sheltered coral with water tank, salt licks, hay and grain 2x/day, owner supplied grain (rice bran, beet pulp, supplements, and winter hot bran mash 1/week are extra), turn out daily, blankets and sheets off & on by staff.
Monthly: $750.00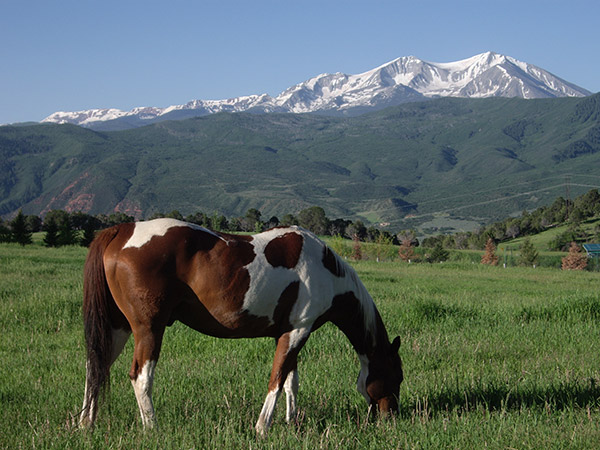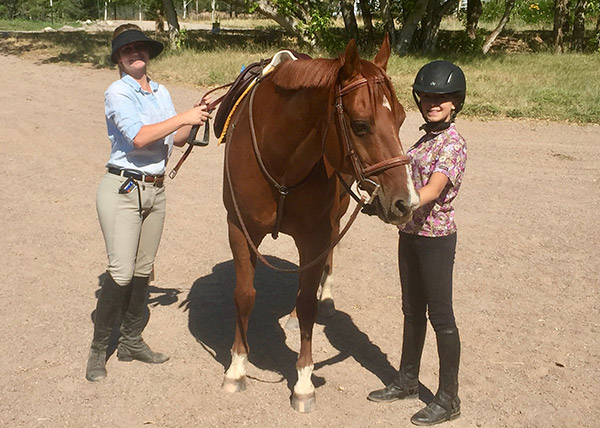 We will ride your horse with emphasis on reinforcing good ground manners, standing while mounting, & quiet, respectful response to hand, seat, & legs, while in the ring & on the trail. All horses will be groomed before the ride, including picking hooves, & will be given a bath (weather permitting) after the ride, to remove sweat & salt from their bodies. Please talk to us about any behavioral problems that occur when you are working with your horse. We will work to improve your horse's behavior and education, which will enhance your riding enjoyment.
$45.00/ ride
For Trail Rides click here
Additional Boarding Services
SPRING CLEAN-UP
We will give your horse a spring clean-up, which includes: Warm soap bath w/conditioner, hoof cleaning & conditioning with products, clipping of bridle path & fetlocks.
$50.00/time

SHEATH CLEANING
Geldings should have their sheaths cleaned at least twice/ year: Warm wash with special sheath cleaning soap, rinsing thoroughly, and medicating w/ ointment if necessary.
$50.00/time
Veterinarian services for sheath -bean checking/removal can be arranged for your horse.
HOOF CARE
Hoof care which includes: picking hooves, cleaning outside of wall, applying hoof care products to wall & sole, special product around coronary band.
$20.00/time
TACK CLEANING All equipment is cleaned with Murphy's oil soap, oiled with Neatsfoot oil, then conditioned & protected with RM Williams saddle dressing with bee's wax.
Western saddles: $60.00
English saddles: $40.00
Bridles: $35.00
Breast collars: $25.00
Saddle bags: $25.00
BLANKET REPAIR FOR YOUR HORSES
We provide a free drop off & pick up for your damaged blankets & sheets. There will be a separate bill for each individual repair.
FARRIER
Shoes by Tim Tordoff – Trim – $50, Shoes – $185.00, Snow shoes w/rim pads/studs – $235.00

Jeremy Vrono – Trim – $50, shoes – $150, snow shoes

Ryan Maxon – Trim $50, Shoes $175, Snow shoes w/rim pads/studs – $200
Please let us know if you prefer a diferent farrier. Farrier charges separately, specific for each horse. If owner is not available to handle their horse, there is a catch and handling fee.
VETERINARIAN
All medical charges are separate & extra for each horse and veterinarian visit. If client cannot be available to handle their horse, there is an $10.00 handling fee. Goldyn Equine Services, Roaring Fork Equine Medical Center, Glenwood Vet Clinic, and Alpine Animal Hospital, and CSU specialist Dr. Erin Contino, are veterinarian services recommended by this ranch. Please specify if you wish to have another veterinarian.
CATCH AND HOLDING CHARGES –
For vet & farrier rates are as follows:
$10.00 catch fee, $20/hr. for holding

GROOMING & SADDLING
Grooming & saddling- including hoof cleaning – bath after ride if needed.
$15.00 / tack up $15.00/ untacking